Ensure efficient handling of materials and accurate record keeping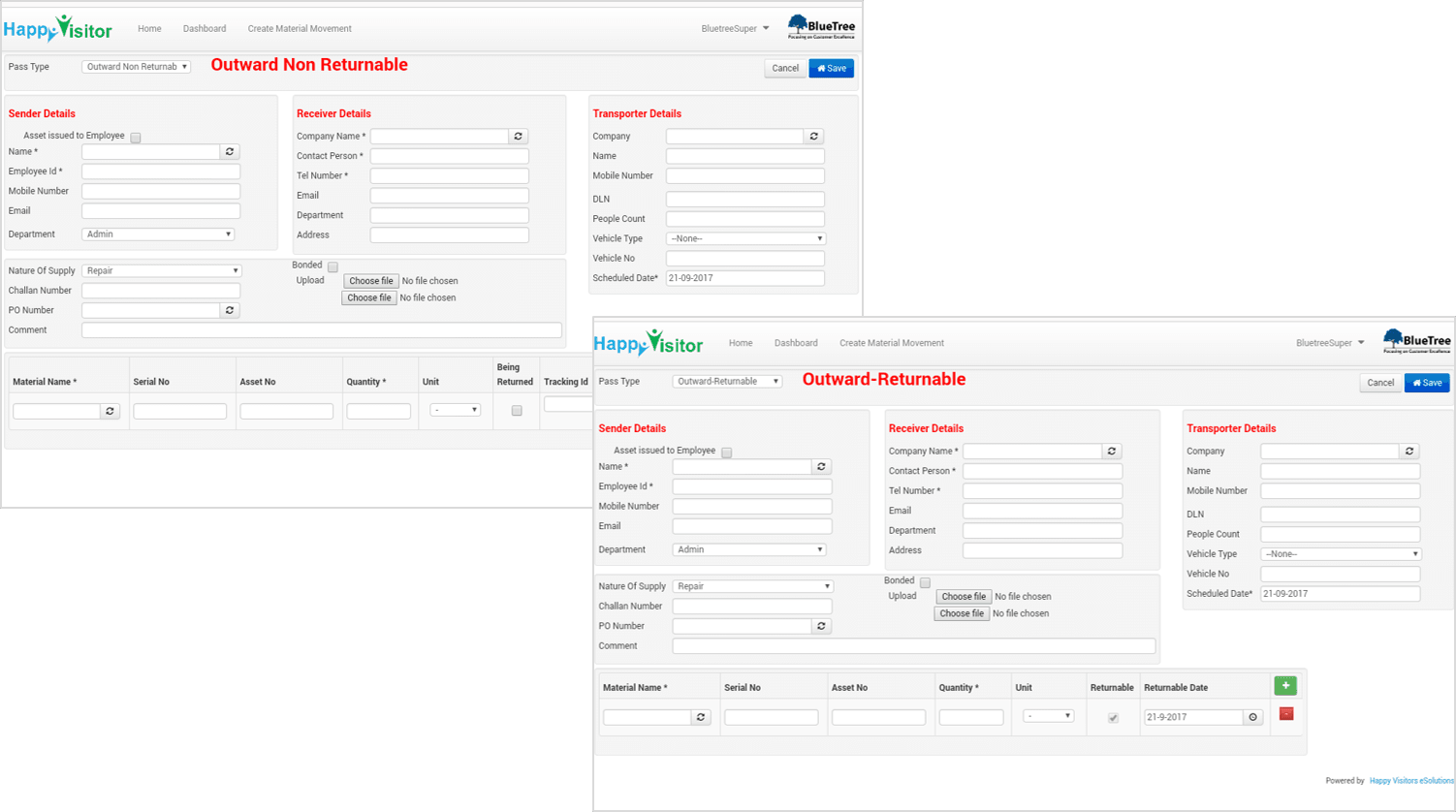 Outward Non- returnable (NRGP) and Returnable Material Tracking (RGP)
Every material be it capital goods or scrap or e-waste, it is essential to be tracked by the company. Happy Visitor material management system is designed for an ideal handling of outward materials, where outward request can be captured in the system, approved via emails and barcoded Material Gatepass can be created. Happy Visitor allows you to real-time tracking materials ensuring compliance to organizations polices and tighter control on assets.

Automated robust returnable tracking is required for an organization to have Outward Returnable Material Tracking, get a list of as pending outward returnable materials from the system and send an email alert to vendor or sender before the expected day of return. When the returnable material arrives back at the security gate, scan the barcode on the Gatepass, which has been given to vendor at the time of outward. You can also send an alert to the sender informing about the arrival of returnable material. Post which, Initiator can complete the full RGP cycle by marking "Material Received".
Inward Returnable and Non – Returnable Material Tracking
Automating Inward Returnable and Non- returnable Material Tracking can reduce time and effort required for checking inward materials, so Happy Visitor does. Manage all your inward materials by creating request in the system and mark material as returnable if materials must go back. Happy Visitor has straightened approval process for zero mishandling of material. Ensure quick alerts are sent to concern personal for approval or escalations. Our system also creates Delivery Challan which can be further sent out to both sender and receiver via email for "Material Received" acknowledgement.

And you don't have to worry about Inward Returnable Material because Happy visitor takes care of it. System gives you a complete list of inward returnable materials and ensures it goes back to the vendor or sender on or before expected date.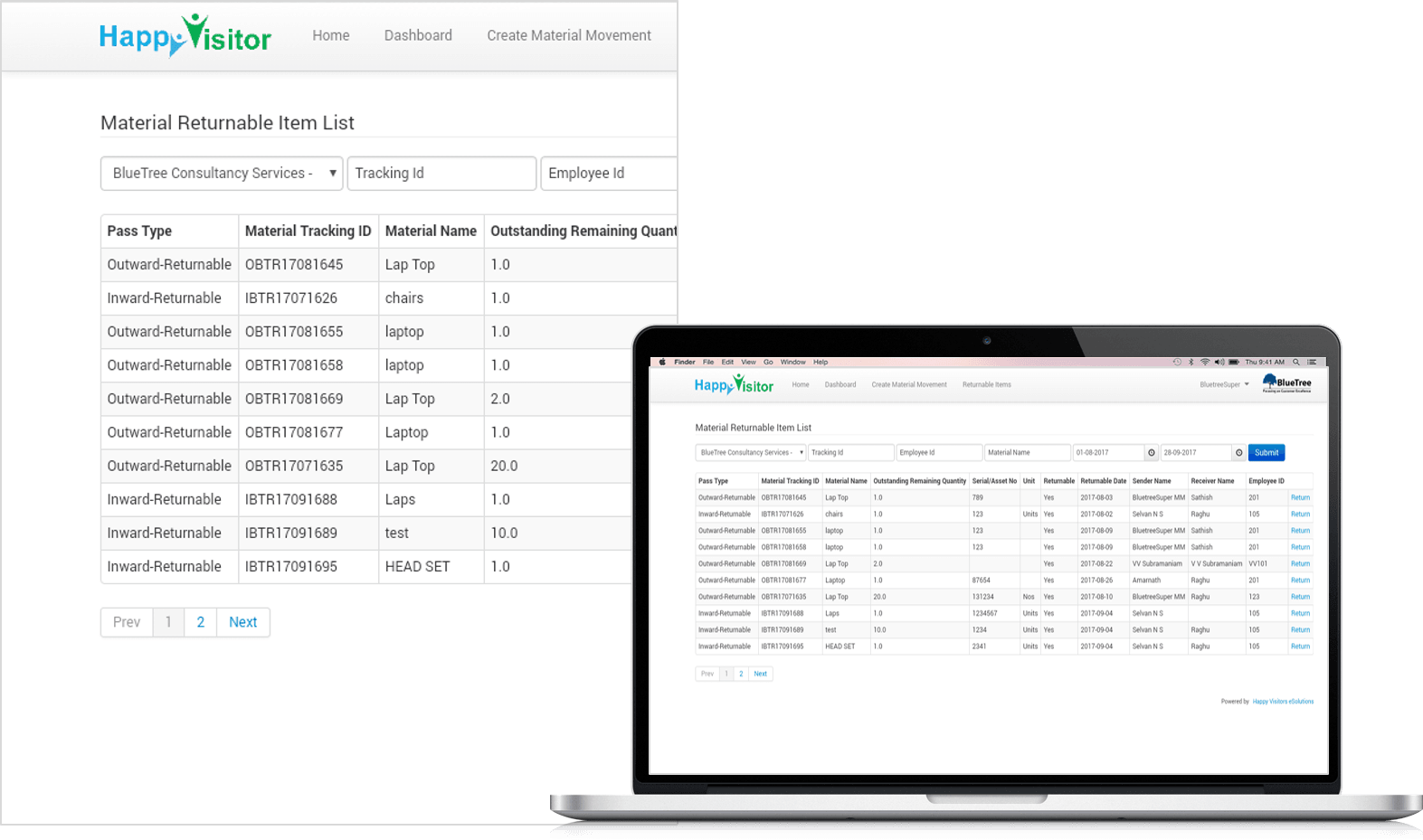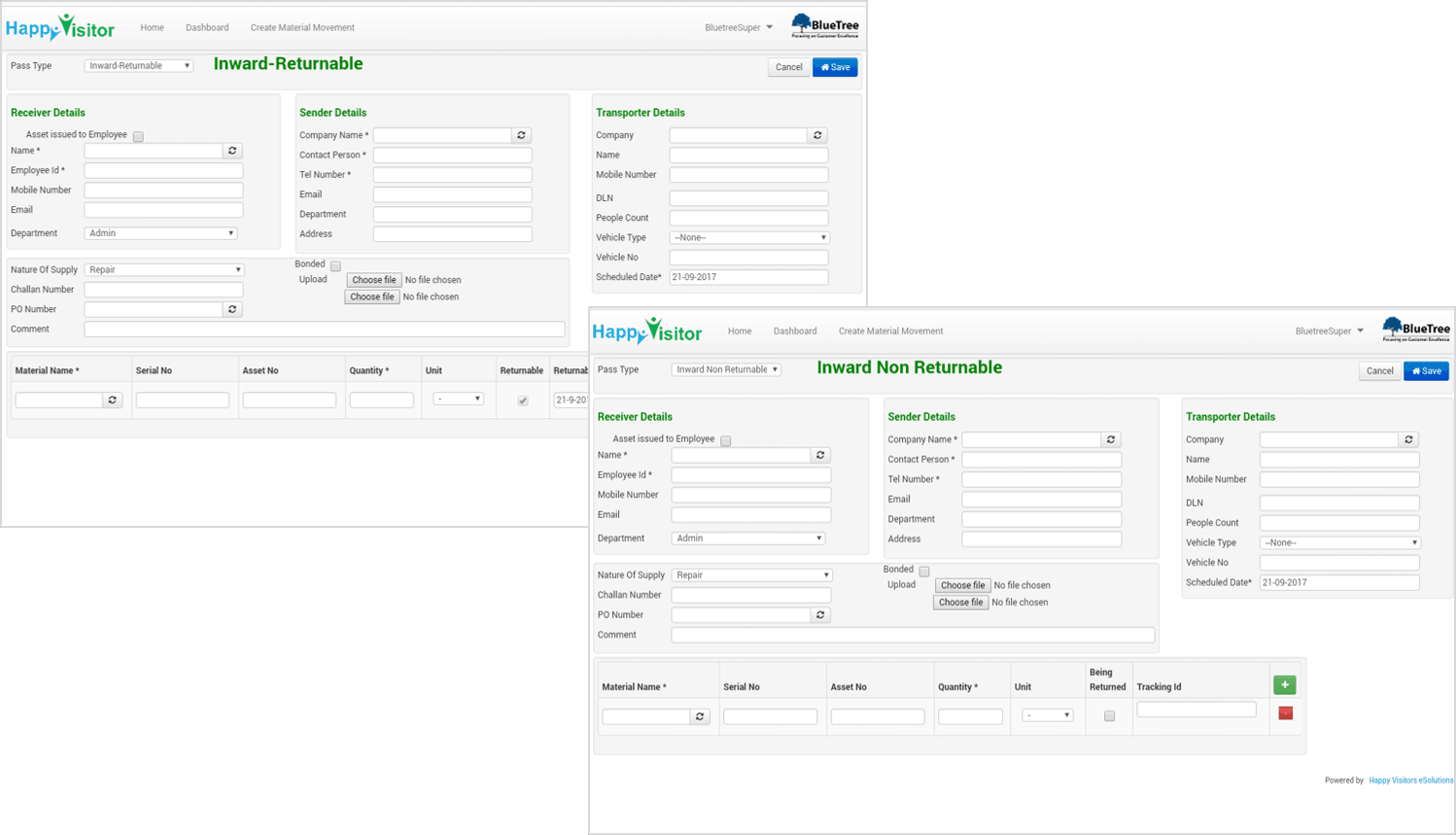 Eliminate Manual Registers
When organizations are managing materials, it becomes very difficult to track and manage manual logs of each inward and outward materials. Our Material Gatepass Management System completely automates the entire life cycle of material movement / gate pass management. A streamlined and digital approach to manage material movement helps keeping track of every item that come into the organization and go out.
Email based Approval Process
Happy Visitor lets you define role-based, stringent approval process specific to your organization that ensures authenticity of information. The streamlined approval process enables faster and more accurate decision making. By automating the entire workflow of tracking the movement, companies can mitigate loss of material and prevent theft & unauthorized carry away of materials.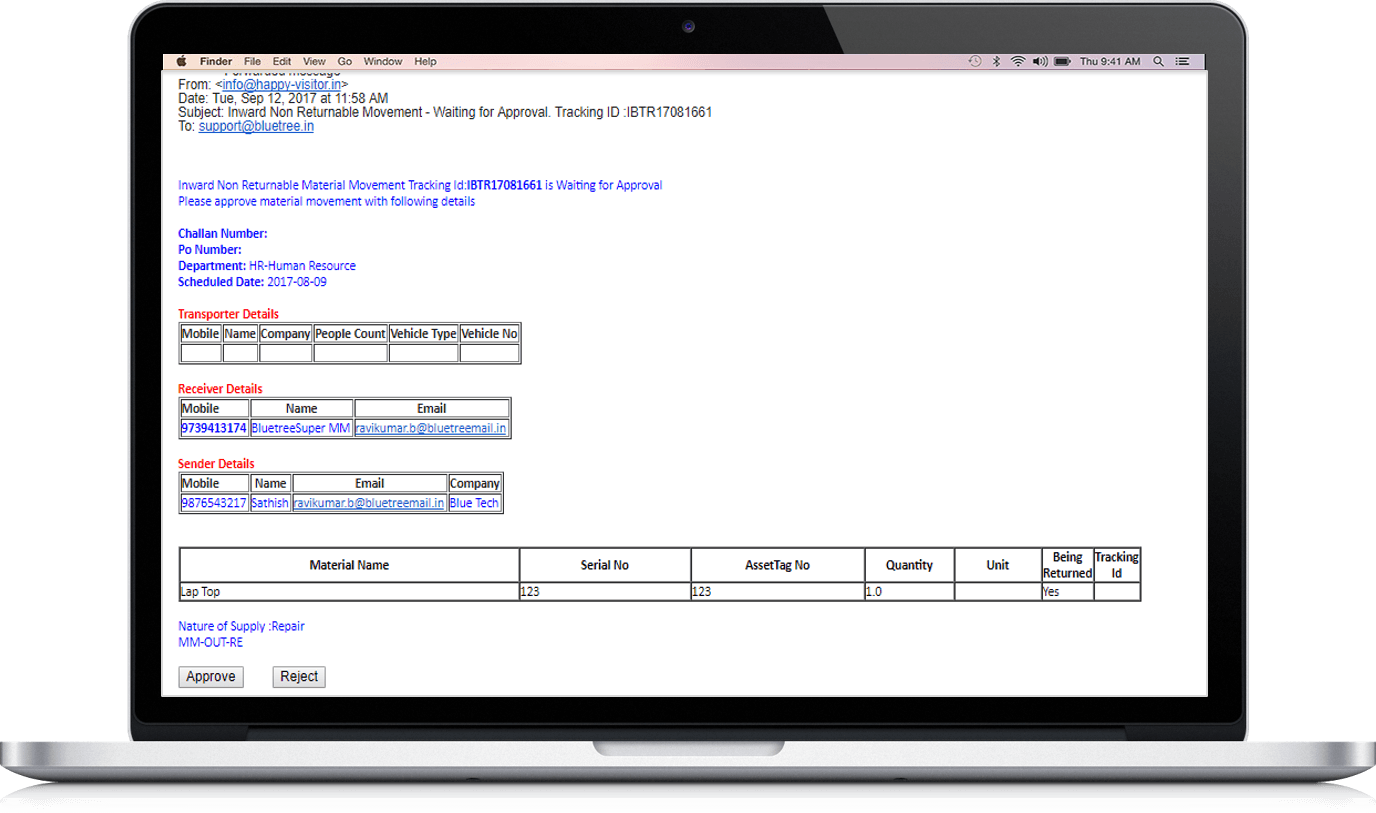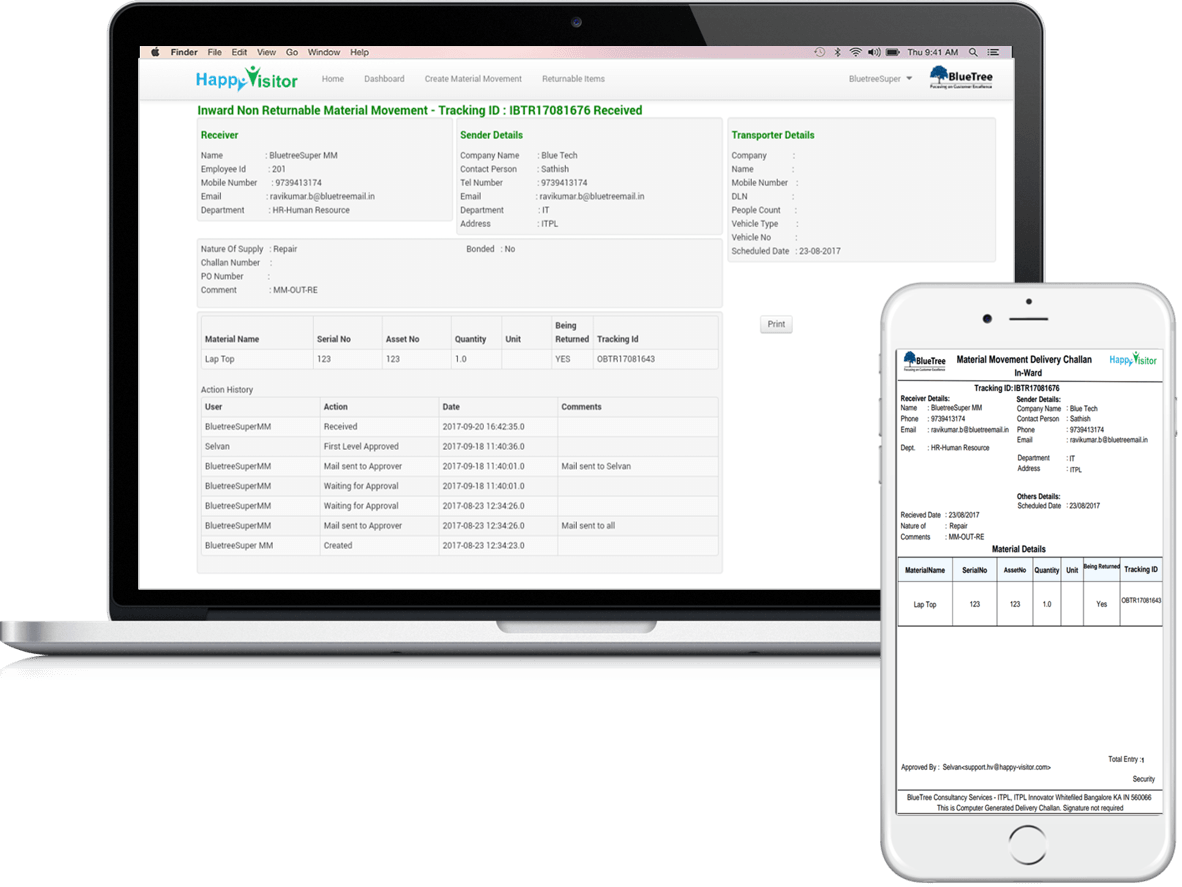 Gatepass / Delivery Challan
Every material needs permission whether it's going out or coming in to the organization. Creating manual Delivery Challan / Gate pass is always be a tedious work. Our Material Gate Pass Management System captures all information associated with inward/outward, returnable / non-returnable material movement across the organization. Creates printable delivery challans for inward and gate pass for outward material movement without any hassles.

Alerts & Notifications
Happy Visitor sends out automated e-mail alerts to approver, sender and receiver at every stage of the material movement process, thus improving productivity and enabling better control. Reminder and escalations notification in case of returnable materials.

Interactive Dashboard
Manage the list of all inward, outward, returnable and non-returnable materials right through the dashboard. Display pending action materials, waiting for approval materials, sent out materials and received materials columns in your dashboard for the perfect overview.

Comprehensive, Centralized Reports
Happy Visitor empowers administrative staff with multi-dimensional reports available across the enterprise. Readily available reports which can also be stored offline in excel / pdf formats seals all the expense leakages caused due to over-invoicing.
---

Secure Cloud Data Access
Happy Visitor captures and stores all inward/outward material movement data on our secure cloud servers. This means your data is easily accessible from anywhere-anytime, continuously backed up, and safe.

Real-time, Enterprise Level View
Monitor and control movement of material across the enterprise with a real-time, centralized view of all the goods movement. The powerful and intuitive dashboard lets you approve / reject material movement in click of a button.